Quick navigation on the page:
1. Platform advantages
2. Platform operating interface
2. Signal providers
ZuluTrade is a free service (not a broker) for automatically copying traders' trades. The service is used by more than 500 thousand traders and 150 thousand investors around the world. With Zulutrade, Forex trading is fully automated! The beauty of such systems for copying transactions is that the investor takes all the profit, in contrast to the PAMM accounts , where a significant share is transferred to the manager. The Zulutrade portfolio can be made part of the overall investment portfolio.
Ease of work: choosing a provider → copying transactions → making a profit.
Your main task is to select a trader from the rating of signal providers. Further, all transactions will be performed automatically, you only need to monitor the changes in your account balance. Today, there are already about 9000 Forex traders from all over the world in the system, each trading using its own unique trading system. A wide selection of trader-suppliers provides great opportunities for those who would like to earn as if they were a professional trader. You can open many accounts and choose different suppliers at the same time, thus creating a diversified portfolio. The only limitation is that the minimum account size must be at least two hundred dollars (or 5000 rubles).
Benefits of the Zulutrade platform
1. Fully automated trading process
Today, financial markets are a professional territory for experts in this field. Unfortunately, the statistics are not in favor of beginners. Only 10% of them succeed, the remaining 90% lose capital investments, as they do not have the proper knowledge base necessary for successful trading. What are the reasons for failure? It's very simple: trading requires a deep knowledge of psychology and thorough discipline. In order to cultivate these qualities and gain invaluable experience, a trader needs a colossal daily practice, which, of course, requires both time and character.
So what to do if the existing skills are not enough for independent trading in the market, and time is sorely lacking? Take advantage of Zulutrade's opportunities. All you need to do is select signal providers and monitor your account. You will be freed from market analysis and time-consuming transaction processing.
Thanks to Zulutrade, you can communicate with professional traders anywhere in the world and get good advice from them. Everything happens as if they are working on your account. Such professional assistants are also called providers of trading signals. The program allows you to add a couple of selected providers to your account. This can significantly reduce the risks. In addition, this approach to doing business makes it possible to increase funds around the clock, except for weekends. There is no longer a need to constantly monitor the trades, traders will take care of this, and you can simply monitor the process in your free time.
Using the Zulutrade platform allows you not to incur losses even in the event of a crisis. Typically, the timing of transactions on Forex does not exceed 5 days, so income is accrued due to market movement.
2. Comfortable navigation
On Forex, leverage is used, the value of which reaches 1: 500 and higher. With strict adherence to the risk management strategy, you can not worry about losses, which, in one way or another, are part of the work in the financial market. In general, we can say that the dependence of profitability and risk is interconnected. The higher the possible investment profitability, the higher the possible risks.
Thanks to the Zulutrade platform, you can set risks and profitability for your portfolio with maximum accuracy. You always have the right to choose – to determine the risk that will be justified for you. So, whatever investment strategy you choose, it can be successfully translated into reality.
3. You choose the risks yourself
If you are a careful trader and risk is always an unnecessary headache, you always have the opportunity to set a low trading volume in your lots. This will minimize risks while maintaining potential profitability.
In the platform interface, the investor has the option to move the risk / return slider on a scale from 1 to 100 to get their preferred values. For example:
Risk 1. Minimum: 60% per annum, maximum drawdown (risk) ~ 10%
Risk 2. Moderate: 300% per annum, maximum drawdown (risk) ~ 30%
Risk 3. Maximum: 2000% per annum, maximum drawdown (risk) ~ 80 -90%
4. Aggressive trading
You just need to increase the trading volume and your potential income will increase, but it is worth considering that the risks will also increase. In order to test the work of providers and determine the optimal strategy, use the "Backtest" button. Using the Zulutrade platform, you can get the maximum profit if you have sufficient experience, for this it is enough to increase the trading volume, but do not put more than 100% according to the risk guide.
5. Lots of providers
Providers are traders who work for Zulutrade. They transfer operations from the terminal to the system, and the system shows them to its users. Providers take part in Zulutrade's revenues, which depend on the number of subscribers to the system. If traders have several thousand subscribers in their database, their income can reach $ 30,000. per month or more.
Zulutrade is a global system, so there are a lot of signal providers, among them there are quite decent and effective managers. You can choose any and any number. Plus, you can always exclude those you don't like from your portfolio. Dismiss, so to speak.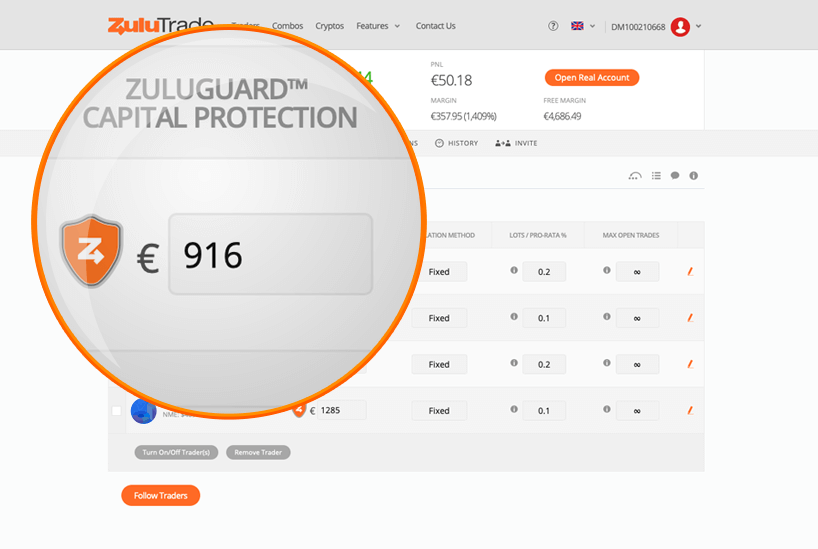 If you need to get acquainted with the statistics, just click with the mouse and all the data will be displayed on the screen. Accounting helps to build a complete picture of trading systems. For the convenience of users, the platform has a convenient interface, so you can easily track the entire history of transactions, the results of subscribers and other necessary data.
A special system ZuluRank is used to evaluate the performance of providers. It analyzes the profitability of transactions, personal data of the provider (for example, age), the amount of funds in the account, open positions. Thanks to such statistics, you can choose the most rated provider, but if it does not meet your expectations, you can always remove it from business, or simply reduce its part in your portfolio.
6. Thirty-three brokers in the Forex system
Zulutrade does not participate in Forex trading, however it does provide trading signals. You need to open an account with brokers working with Zulutrade. Most of these companies are leaders in foreign exchange trading. They have many years of experience and are monitored by various financial services. The choice of dealing centers in the Forex system is great, you can choose your center from more than thirty options.
Broker Alpari is an ideal choice if you are located in Russia or the CIS. By choosing this company, you have been choosing an impeccable reputation for over 10 years. When opening an account, you will need to register a personal account, and then open an account with Zulutrade.
7. Good trading conditions
The Zulutrade platform provides the most favorable terms of cooperation. There are no restrictions and frameworks, so, for example, you can deposit and withdraw funds whenever you want.
In addition, you will not be charged any commission for management. You pay only the standard commission to the broker, no additional remuneration is paid to the manager (the manager takes part of the commission directly from the broker).
In order to start earning, you do not need large investments. It is optimal to start with about $ 500 in your account. This amount is enough to add several providers with a multiplier of 0.1 minilot. In order to minimize the risks, it is worth attracting more providers, but this will also require an increase in the budget. In addition, you always have the opportunity to try your hand at a demo account. It is valid for 30 days, after which you can upgrade to the full version.
8. Convenient observation of the account
Thanks to the comfortable observation of the account, it is easy to keep abreast of the ongoing operations, for this the system has provided many convenient tools, as well as an application for iOS. In the history tab, you will find complete and detailed account statistics, which will allow you to always be aware of the transactions performed.
In history, you can track the yield curve for the operations performed, as well as specifically for a single provider. By tracking the history of transactions in your personal account, you can not only analyze the data of providers, but also independently complete open transactions.
Zulutrade platform working interface
In the Trade section, you can manually open or close a deal for any currency pair. To do this, move the cursor to the Symbol Selector or click on the large numbers of quotes. I strongly advise against performing any actions in this section if you do not understand how to trade on your own. Shift this responsibility onto the shoulders of successful traders.
Go to the Signal Providers tab . A rating immediately opens in front of you, compiled automatically by a set of criteria that the platform considers important (profitability, drawdowns, etc.). However, you should not completely trust this list and add only providers that occupy high places in the rating. Each provider has a different set of icons.
Now only about the main points. If the provider has a green dollar icon , then it is trading on a real account for real money and all statistical information is based on real data.
Blue dollar – a person trades on a demo account, so the information is essentially not based on practical data. On the other hand, blue dollar providers have real accounts and are subscribed to their signals (not all).
If there is no dollar at all, this is a clean demo account.
Moving the cursor over the provider, a "plus" appears, by clicking on which, the provider is added to the bookmarks. After adding all the providers you are interested in to your bookmarks, click on "Show bookmarks only" on the right.
With the statistics of providers, it seems to me, everything is pretty clear and simple.
"Points" – the total number of earned profit points.
The letter "K" in Points stands for thousands. For example 4.3K means that the provider earned 4300 points of profit.
"Deals" – the total number of closed deals.
"Average. ? unkty " – the average number of points that are earned in 1 deal.
"Average. time of the deal " will help to understand at what time interval the signal provider operates.
"Weeks trades" – the provider's lifetime in weeks, a very important indicator, as you understand. The bigger, the better.
"Max DD%" (Maximum Drawdown) – maximum drawdown in%
"Subscribers" – the total number of subscribers on real and demo accounts.
"Amount Following" – how much money all subscribers of this provider have. "K" – thousands, "M" – millions of US dollars.
Zulutrade Providers
To use the Zulutrade Provider Search, go to the official zulutrade website and click "show advanced filters" under the search form.
You will be able to set the settings to suit your preferences for automated Forex trading. For example, it is reasonable to filter out only those providers that trade real money, have real subscribers , traded in the last week (i.e. are active at the moment). Also, possible settings can be the lifetime of the provider – from 15 weeks, the maximum drawdown (MaxDD) up to 20%, the percentage of winning trades 70% -100%. An example of settings is shown in the screenshot below.
Using a provider filter is like designing your trading system with any desired parameters. Moreover, you do not have to trade on Forex on your own, positions will be opened and closed automatically, so the psychological factor is excluded. There is no strict choice of parameters: all parameters are somehow related to risk, and this is a very individual matter.
If you are engaged in manual trading, then for training purposes, you can set in the filter a certain currency pair (for which you specialize, say the popular Eur / Usd) and analyze the provider's transactions on it. All open positions with prices and lots are reflected in "My Account" / "Positions". You can duplicate open trades in real time on your trading account and analyze the behavior of a successful trader through the prism of your instruments and market vision. It is a very useful practice to help you see weaknesses in your trading system. As for the Zulutrade account, which is used for automated Forex trading, it is better to provide it completely to the providers and not interfere with the process of making transactions.