As a Forex trader, you understand how important it is to use analysis when trading foreign exchange. Technical analysis is very important for those who want to trade successfully and responsibly. Traders perform technical analysis by studying charts of past market activity.
Since Forex trading charts display prices that depend on market movements, there are several tools that can help you with technical analysis – these are Forex trading indicators. Forex indicators, among others, include lagging indicators, Forex leading indicators, leading and confirming indicators of the Forex market.
Many indicators for Forex, for the convenience of traders, are built into trading platforms. Today we will look at the latest MetaTrader platform – MetaTrader 5. It features a large number of new MT5 indicators as well as an extensive collection of MT4 indicators.
Traders are now actively switching to this platform because it is more in line with the modern trading style. In addition, the best advanced Forex indicators for Android , for IOS, for your desktop computer are at your service. It doesn't matter what you are used to trading, you can download the MetaTrader 5 platform or even run it in your browser without downloading using WebTrader.
In the same article, we will take a look at the best MT5 indicators.
Best Indicators for MT5
MetaTrader 5 has several differences compared to the previous version of the platform. Forex indicators are divided into four groups: oscillators, volume, trend and Bill Williams indicators.
In addition, there is a fifth category of custom indicators, to which traders' own indicators belong. MT5 has made it easier to access indicators, and most of them are completely free to use.
The MetaTrader 5 trading platform offers a huge selection of available indicators for mt5, but we will highlight those that can be called some of the best.
So, TOP of the best Forex market indicators for MetaTrader 5
Fractal Adaptive Moving Average (often called FRAMA)
BB MACD indicator
Market Facilitation Index (or BW MFI)
CCI arrows
Trading assistant of the MetaTrader indicator
Fractal Adaptive Moving Average (FRAMA) or what is Forex Fractal?
Fractal Adaptive Moving Average (FRAMA) uses fractal geometry to dynamically adjust its smoothing period to level out changing prices over a period of time. The FRAMA theory is very well built, and to prove it, we will explain to you how FRAMA works on the MT5 trading platform.
This MT5 indicator takes advantage of the fact that financial markets are fractal. Forex fractal form – this means an uneven or fragmented form that can be divided into parts, each of which will be a reduced copy of the original.
Price movements look almost identical, regardless of the time frame they are considered. This is called self-similarity, and it determines the shape of the fractal.
When we find a fractal dimension or 'D', we get a signal of how the fractal appears in order to fill the space to even more prominent scales.
For example, your way of thinking should look like this: The stock chart is too large to be one D, but too thin to be two D, so its fractal dimension is between one and two.
FRAMA determines the fractal dimensions of the price over a certain period of time, and then uses the result to dynamically adapt the EMA smoothing periods.
At first, all this new information can seem very complicated, especially if you are new to trading in the foreign exchange market , so we invite you to participate in our educational webinars – where trading experts share information about platforms, indices and strategies for Forex trading.
What is Forex MT5 BB MACD Indicator?
BB MACD is a combination of MetaTrader MACD indicators and Bollinger Bands into a single indicator. When the MACD indicator is represented by green or purple dots, it changes its color – this is most likely a good trading signal. The strength of these signals is estimated by the width of the gap between the two lines: blue and red.
The MACD indicator line is used as the center line of Bollinger Bands – they are displayed as a dashed line, therefore, they are calculated as a simple deviation of the bands for this line.
Overall, this original MACD mode can be quite useful and interesting as it makes trading signals much easier to read.
Forex Indicators – Market Facilitation Index (BW MFI)
The Market Facilitation Index Technical Indicator, or BW MFI, is one of the Forex indicators on MetaTrader 5 that displays the price change for one specific point. The absolute values ​​of the indicator, in fact, do not say anything, because it is not an indicator of changes.
When the BW MFI increases and the volume rises, this indicates that new players have opened positions in the direction of the development of the bar, a movement has begun, which continues to gain momentum. In addition, it also shows that the number of players that are coming to this particular market is growing.
When this MT5 indicator goes down, so does the volume. This means that market participants are no longer interested.
The BW MFI indicator is increasing significantly, however the volume is falling. It seems that the market is not supported by specific clients, or rather by their volume, and therefore the price will change as a result of speculation by traders.
The last variable we will look at is the situation where the BW MFI is declining while the volume is increasing. There is a fierce battle between bears and bulls in the market, which is characterized by a huge volume of buying and selling, although the price does not really change significantly, since the forces are relatively equal.
One of the competing parties (sellers versus buyers) will ultimately win this battle. Often times, a bar break can indicate to you either the continuation of the trend or its completion.
Application of Indicator for MT5 CCI Arrow as one of the best Indicators for MetaTrader 5
The purpose of the CCI Arrows, as a representative of the MetaTrader 5 Forex Indicators group, is to show you where the CCI crosses the zero (by marking it with either a blue or red arrow) to help you decide where to go long and where to go short.
It has minimal lag and a relatively high accuracy rate. This uncomplicated indicator is an excellent choice for Forex traders who prefer to use simple indicators in their Forex trading.
As for the decisive input parameter, we have something like this – CCI_Period (default = 14). This is the CCI period that applies to this indicator. There is also a proportion – the higher the value, the more lags in this Forex indicator, although there will be fewer false signals in it.
This MetaTrader indicator creates direct buy or sell signals. It is important to understand that you do not enter a trade if the signal contradicts the current general trend. In an uptrend, and when you get a blue arrow, you should trade long, but if the arrow is red, you should close your long position if you have one.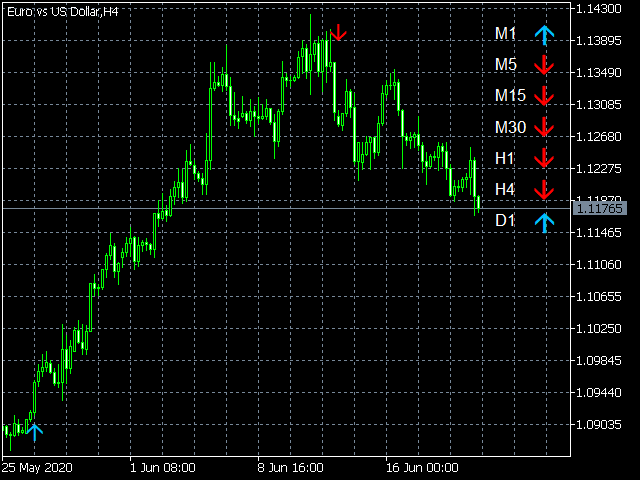 In the case of a downtrend with a blue arrow, you close the short position, but do not trade long. If you get a red arrow, go short.
Another recommendation to keep in mind is that if the chart moves sideways and you get either a blue or a red arrow, you can go long or short. Additionally, you should place a stop loss order right at the level where the arrow is drawn. Using a trailing stop with this indicator is also a smart solution.
How to use Indicators for Forex online for MT5 Trading assistant
The Trade assistant indicator for MetaTrader is one of the MT5 indicators on multiple time frames and it is based on three simple indicators: RSI, CCI and Stochastic . It shows the current trend directions for M5, M30, M15, H4, D1 and H1.
When you follow this type of Forex indicator, you get a clear picture of trends in all existing time frames. It doesn't matter on the chart with what time frame you overlay the Trade Assistant indicator. It is important to remember that you cannot change the input parameters.
We suggest buying and selling only when all indicators in your time frame and adjacent time frames signal the same direction. For example, go long all the time in the M30 time frame, if all indicators – both in H1 and M15 – are also advised to buy.
Summary – Forex MT4 and MT5 Indicators
The MT5 platform offers a huge selection of interesting and useful technical indicators. Since this platform is completely customizable, you can choose any indicator that you think is most suitable for you.
We have shown you examples of the most popular Forex indicators, however there is much more to choose from on the trading platform, and in addition, you can always create your own new MT5 indicators.
But do not forget that any new knowledge should first be tested in a secure environment, without risking your own funds – on a demo account . After you make sure that you are able to apply new knowledge on a demo account, only then can you switch to trading on a real account .